Hosted in Barcelona from 31st May to 1st June, the inaugural Sustainability & Naturals in Cosmetics conference will comprise seminars, workshops and panel discussions dedicated to regulation, product criteria and certification, ingredient innovation, new sourcing trends, and sustainable supply chain within the cosmetic industry.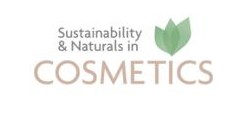 NATRUE is a supporting association for the event and actively participating during the two days. In particular Dr. Mark Smith, Director General of NATRUE, will be taking part in the panel discussion "Private and International Regulations – maximising the green impact" from 12:20 to 13:20 on Day 1 – Thursday 31st May. Mr. Sven Gehrig will also join the panel as a representative from one of the NATRUE founder member companies, WALA GmbH (Dr Hauschka, Germany).
On Day 2, Mrs. Jayn Sterland, from NATRUE member Weleda UK, will open the event with a talk on "Conscious beauty: pioneering sustainability in today's cosmetics business" (09:25-09:50 am) and close this year's edition of the Sustainability & Naturals in Cosmetics with "The future of sustainable cosmetics – what is next?" (03:25-03:50 pm).
With ever increasing consumer demand for naturals and a growing consciousness concerning issues of sustainability, a product's life-cycle, its manufacturer, ingredients origin and packaging, the cosmetics industry is in a process of adaptation of its practices and global trends in order to stay ahead of the market. The conference aims to provide a platform to discuss these key topics, challenges and to debate current best-practices and goals for the sector through the input of multiple stakeholders.
Day 1 will be dedicated to "Trends in the natural and organic cosmetics industry", "Innovation in formulation, ingredients and raw materials" and "Cosmetics certification standards and requirements", and Day 2 to aspects covering "Marketing in sustainable cosmetics", "Managing a sustainable supply chain", and "Trends in sustainable cosmetics packaging".
This two-day event promises to deliver on several key topics within the industry, bringing together key professionals from across the cosmetics industry, from raw material suppliers to retailers to associations and more.
If you would like to have more information and join the event, find out more here: website www.cosmeticsconferences.com